Find us on Google+ Home Inspector in Port Orange, FL asks...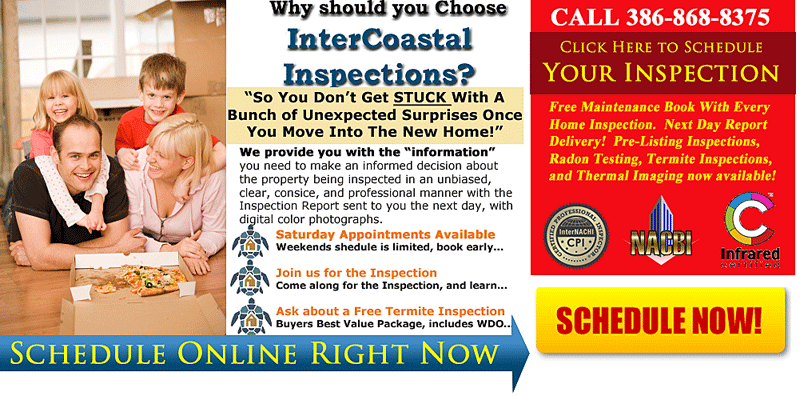 ALL HOME INSPECTIONS ARE PERFORMED BY A CERTIFIED MASTER INSPECTOR
Let me start by making you a BIG Promise. If we inspect your home and you're not 100% satisfied with our inspection – you pay absolutely nothing for the inspection.
After being in the Home Inspection Business for many years, I've seen many fly-by-night Home Inspectors come and go. I feel sorry for the home buyers that are victimized by these unscrupulous operators.
I'm so confident in our inspections that I'm willing to put my money where my mouth is.
You see, I understand this is an important step in your life. This guarantee is just one more way to demonstrate my desire and commitment to meet and exceed your expectations. Also, I want to ensure you have an enjoyable real estate experience.
So at Intercoastal Inspections, we offer a simple, no weasel words guarantee. Attend your Home Inspection and if for any reason you're not satisfied with the "Quality" of the home inspection service, tell the inspector before you leave the property and we either make it right, or you don't pay the home inspection fee!
HOW CAN WE GUARANTEE AN INSPECTION?
It's easy. We find more defects than our competition. The end result is that you save more money. Most contracts allow negotiations with the seller to make repairs or give you credit at closing. So the more defects our inspector finds the more money you save. We are not in the business of making up a list of non-existant issues, but if there is an issue, we will find it.
We don't rush. This allows us time to do a thorough inspection of your new home, condo, or building. This also means we charge a little more than most of our competitors.
You don't want a cheap inspection. A cheap inspection may be the most expensive thing you'll ever buy, it may cost you thousands of dollars down the road because of missed or overlooked defects. Cheap inspectors often know less and do less, which is one reason why they're cheap.
The More Thorough We Are, The More Defects We Find, The More Money You Save!
Top Reasons To Choose InterCoastal Inspections:
1. All Home Inspections will be performed by a CMI - Certified Master Inspector. Make sure your inspector is a Certified Master Inspector.
2. 40-50 Page Digital Home Inspection Report With Color Photos And Helpful Links and Tips
3. Permit Report On Your Property (Provided by Buildfax) - You will be provided a copy of the report which will list all availabe digital permits on file at the local municipalities.
4. WDO/Termite Reports - FHA/VA Approved (provided by DL ) - Schedule your WDO inspection with us. We have no interest in selling you a treatment plan for your home. All you get is the most unbiased WDO inspection on the market. We even crawl all accessible attics and crawlspaces which is more than your would find from a local pest control operator.
- Convenient 24/7 Online Scheduling
- 6 Months/0% Financing on Inspection Fees
- Thermal Imaging Used On Every Inspection
- Monthly Newsletter & Home Maintenance Tips
- 20+ Years of Construction & Inspection Experience
- Experience, Quality, Integrity, and Five Star Customer Service Make US the BEST!
CLICK HERE FOR DETAILS ON OUR FIVE STAR PROTECTION PACKAGE
FIVE STAR PACKAGING PROVIDES THE ULTIMATE PEACE OF MIND AND VALUE FOR YOUR FAMILY, AND INVESTMENT!
Our Certified Master Inspectors in Volusia, Flagler Counties, and St John Counties will spend three to four hours thoroughly evaluating all aspects of the Property you are purchasing, from the Roof to the Foundation and all areas in between…
We want you to come along with us during the course of the home inspection in Port Orange and New Smyrna Beach, FL. Okay, if you're a seasoned home buyer it may not be as important that you're there the entire time.
However, if you are new to the home buying process, it's very important that you're there from start to finish.
We'll not only inspect the house you're buying, but we'll share with you what needs to be maintained and why. You'll get a real education about your new home.
Don't worry, we'll explain everything in terms you can understand. We are a "Jargon Free" Company!
We know your schedule is very hectic so we work hard to accommodate you! Please call (386)868-8375 and one of our friendly staff members can find the right inspection time for you. In addition, you can use the Online Scheduler below.
By using this online scheduler, you are truly scheduling an appointment with the information you are entering. When you select "Schedule This Inspection" at the end of the process, you will be confirming your inspection.
24/7 Online Scheduler - Book Your Home Inspection Here
This is not a Quote Calculator.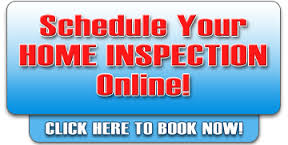 CLICK HERE ----- TO SCHEDULE YOUR HOME INSPECTION NOW!
If you need to schedule an inspection for the same day or next morning, please call our office at (386)868-8375 or (904)325-9877 to speak with one of our Customer Care Coordinators.
100% Customer Satisfaction
Click Here To Download "7 Ways To Avoid Hiring The Blind Home Inspector" Report
Click Here To Download The Sample Home Inspection Report